Designer Jewellery:
I always feel like people in charity shops don't know what they are doing, they can't tell the designer pieces from the crap. You hear stories of people picking up expensive vintage pieces for a couple of quid in charity shops. I don't think this happens all too often and I think charity shops must have some idea of what they are selling. However, one can hope and below is a rather exciting list of the things I would love to find.
Chanel-
These pieces are marked Chanel or have the Coco Chanel logo (forwards 'C' crossing the backwards 'C')
They can be sold on for a huge price range of anything from £75-£1000.
Miriam Haskell-
These are often flowery and can be identified by 'Miriam Haskell' on the back. Worth up to £1000
Coro-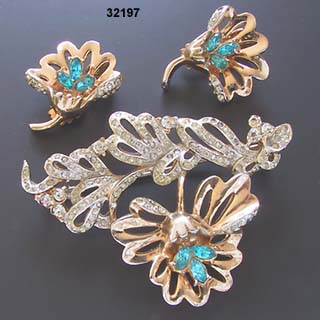 Marked Coro and can fetch anything up to £500. I really like these pieces, more so than the Haskell or Chanel stuff.
Bakelite –
I've always loved Bakelite stuff because of my 1940's obesssion. I remember finding some at a flea market, a gorgeous bracelet for £125. I was so tempted. It is a type of plastic, often quite heavy yet unmarked. There isn't a great deal about but there must be a shop out there that has mistaken a 1940's Bakelite bracelet from a cheap one from H&M and thrown it in the bargain bin for £1. (One can wish…)
Stanley Hagler
Always terribly shiny. Gorgeous pieces from brooches to necklaces. Clearly marked and easy to spot, however very delicate so finding a piece in tact in a charity shop may be difficult.
Joseff of Hollywood –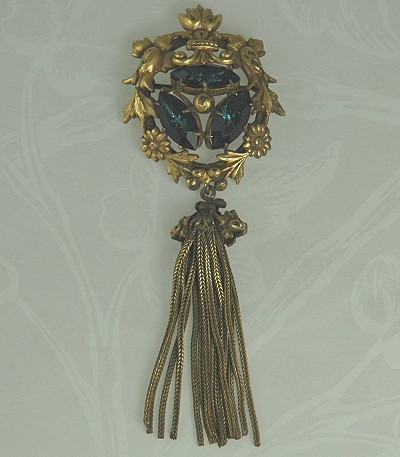 Most often just marked Joseff, I've seen some of the early pieces sell for £600 plus. The stuff is a lot less gaudy than other vintage jewellery from the same period. I'd love to have some Joseff in my collection!
Thanks to: http://www.associatedcontent.com/article/1665752/vintage_costume_jewelry_collecting.html?cat=46