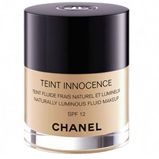 I bought this foundation a few months ago. I'd been looking for a decent one for a while when fellow beauty blogger Alexa said she wanted to find a Chanel counter. As I was the one who knew Norwich, I took her to John Lewis.
Alexa began by telling the Chanel lady exactly what she wanted. Not long later and Alexa had her foundation. My turn. The Chanel lady tried both the Teint Innocence and Mat LUMIÈRE. She said that the Teint Innocence was nearer to my skin tone but still might be too dark – I'm so pale.
But I shelled out the £29 and went home with it in a sexy little bag.
Well, this is the best foundation I've used. Granted I haven't tried that many, because I never have luck with them, but this gives me the perfect amount of coverage and the colour is fine. As with any foundation I find that this really shows up any flaky skin – although less than others I've tried – so I have to exfoliate before applying, my nose especially.
Otherwise it's easy to apply and blend. I began by using a foundation brush to apply it but found that it took ages to get the coverage I wanted. So, feeling lazy one day I applied using my fingers, much easier and a better coverage.
My only reservation is that to get any of the foundation out I have to bash it against my hand. It's in a glass pot with a hole at the top. No pump, no spatula, nothing. I can only think that I got a dud one because once this starts getting nearer the bottom I'm not going to be able to get any out. And it's not as if I can saw the glass pot open like I've learnt to do with my UDPP.
But I would urge you to buy this foundation. Or certainly visit a Chanel counter where they'll be able to pick out the best type and shade for you.
Tell me, what foundation do you use?