National Friendship Day is coming up on the 30th July and Land's End (purveyor of fine casual and outdoor clothing) challenged me to choose an item for my best blogging friend. Now, before I go into the item I've chosen, I want to tell you about that friend.
Nell Walker might be new to the blogging scene but she's dipped her toe into the world of journalism more than once. She's currently writing for the amazing (I might be biased) car blog Turn Eight, but I've heard stirrings of a style blog too. Something I will be watching very closely. Check out Nell (and myself) in action during this review of the new Skoda Fabia.
Now, Nell isn't just my best blogging friend; she's also my BFF, my style icon and m'colleague. We've known each other for 11 years and, perhaps quite aptly, we met online in a whirlwind of musical love and missed birthday messages. For those 11 years we've lived over the opposite sides of the country and have had to meticulously plan every adventure, every meet up and have desperately tried to spend as much time together as possible.

That's all about to change. Next week Nell moves to Norfolk, in fact she'll be just ten minutes walk away from me. No more booking weeks off to see one another or trying work out how we can find an excuse to spend 15 minutes in the other's county for a hug. She can pop in for a cup of tea, I can go over to watch a movie and we can become a blogging tour de force the likes of which have never been seen!
You'll probably find us scouting locations for photo and video shoots, making noise with little turbo cars and generally being colourful in every sense of the word.

Choosing an item for Nell from Lands End was difficult in that there's so much I know she'd love. My eye was instantly drawn to a pair of printed trousers but I then discovered a paisley cardigan (those who follow Nell on Instagram – or know her in real life – will be well aware of her love for patterns). I continued to hunt around the site, pretty sure the cardigan would be my gift of choice but, as it turns out there was this…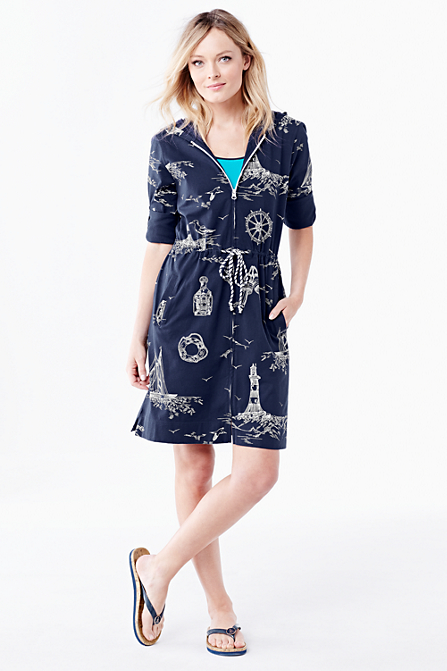 A nautical dress with a full-length zip, hood and drawstring waist. This is supposed to be a swimwear cover up but I've got not doubts that Nell will be rocking this with tights and her chunkiest boots.
I don't think we need a special day to celebrate our best friends (blogging or otherwise) so take some time out to tell those people how much they mean to you but perhaps plan a little BFF adventure for the 30th July.